The Spears' farm is a working farm. Situated on 50+ acres with crops, horses and cows.
8 acres dedicated to Spring flowers, Fall flowers, Garden decorations and so much more!
Helen Spears has always loved flowers and now brings that love to life, from plugs to full plants.

Helen is more than happy to make suggestions, give tips and tricks.
Just ask for help to put together arrangements or if you are seeking additional advice.

Plan your visit today!
Conveniently located in Franklin Kentucky close to I-65 exit 6,
You will find bedding plants, vegetables, annuals, perennials, attractive and stylish containers.
So stop by and see the wonderful foliage and maybe even get to see the horses and cows on the farm.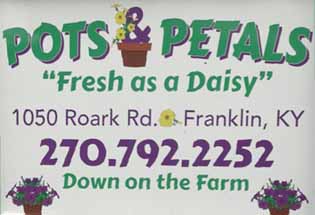 Our Location
1050 Roark Road
Franklin, Kentucky
(270) 792-2252
Click here for directions